Lisa Clark, PT – Director of Therapy Services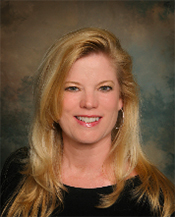 Lisa graduated from Georgia State University in Atlanta, Georgia, completing her Bachelor of Science degree in Physical Therapy in 1996. Lisa's career began in Tampa, Florida, where she worked as part of a spinal cord injury rehabilitation team. During this time, Lisa gained invaluable experience in the physical therapy field, including: acute inpatient care, home health, nursing home & skilled nursing units. Lisa is currently focused on orthopaedic rehabilitation in an outpatient setting at All-Star Orthopaedics. Lisa possesses a great passion for helping our patients achieve an active lifestyle after they have been stricken with disease or injury, regardless of prior lifestyle or activity level.
Focusing exclusively on orthopaedic medicine, Lisa continually strives to increase her knowledge base and refine her skills through continuing education in the areas of: spine, manual therapy, pilates, dance, McKenzie techniques, strength and conditioning. Lisa is a member of the: American Physical Therapy Association, The Texas Physical Therapy Association, The Orthopaedic Special Section of the American Physical Therapy Association and the National Strength and Conditioning Association. Lisa is a Red Cross volunteer and enjoys: golf, pilates, yoga and cycling. Lisa is happily married and has two wonderful daughters.