Dallas Fort Worth Orthopaedic Surgeons Expand to New Location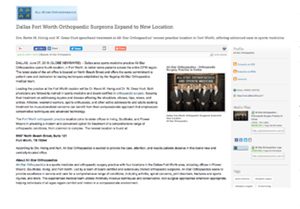 Drs. Kevin M. Honig and W. Grear Hurt spearhead treatment at All-Star Orthopaedics' newest practice location in Fort Worth, offering advanced care in sports medicine.
Dallas, TX — Dallas-area sports medicine practice All-Star Orthopaedics opens fourth location, in Fort Worth, to better serve patients across the entire DFW region. The latest state-of-the-art office is located on North Beach Street and offers the same commitment to patient care and dedication to leading techniques established by the flagship All-Star Orthopaedics medical team.
Leading the practice at the Fort Worth location will be Dr. Kevin M. Honig and Dr. W. Grear Hurt. Both physicians are fellowship-trained in sports medicine and board-certified in orthopaedic surgery, focusing their treatment on addressing injuries and disease affecting the shoulders, elbows, hips, knees, and ankles. Athletes, weekend warriors, sports enthusiasts, and other active adolescents and adults seeking treatment for musculoskeletal concerns can benefit from their compassionate approach that emphasizes conservative techniques and advanced technology.
The Fort Worth orthopaedic practice location joins its sister offices in Irving, Southlake, and Flower Mound in providing a modern and convenient option for treatment of a comprehensive range of orthopaedic conditions, from common to complex. The newest location is found at:
9557 North Beach Street, Suite 121
Fort Worth, TX 76244
According to Drs. Honig and Hurt, All-Star Orthopaedics is excited to provide the care, attention, and results patients deserve in this brand-new and centrally-located office.
About All-Star Orthopaedics
All-Star Orthopaedics is a sports medicine and orthopaedic surgery practice with four locations in the Dallas-Fort Worth area, including offices in Flower Mound, Southlake, Irving, and Fort Worth. Led by a team of board-certified and extensively trained orthopaedic surgeons, All-Star Orthopaedics seeks to provide excellence in service and care for a comprehensive range of conditions, including arthritis, spinal concerns, joint disorders, fractures and sports injuries, and more. The experienced medical team utilizes minimally invasive techniques and conservative, non-surgical approaches whenever appropriate, helping individuals of all ages regain comfort and motion in a compassionate environment.
For more information about All-Star Orthopaedics, please visit allstarortho.com and facebook.com/AllStarOrtho.
Contact:
All-Star Orthopaedics
Fort Worth Location:
9557 North Beach St., Ste 121
Fort Worth, TX 76244
(817) 617-8780
Irving Location:
400 W. LBJ Fwy., Ste. 330
Irving, TX 75063
(972) 556-2885
Southlake Location:
910 E. Southlake Blvd., Ste. 155
Southlake, TX 76092
(817) 421-5000
Flower Mound Location:
3400 Long Prairie Rd., Ste. 102
Flower Mound, TX 75022
(972) 556-2885
Rosemont Media
(858) 200-0044
www.rosemontmedia.com