Five Dallas-Fort Worth Orthopaedic Surgeons Named "Top Doctors" by Southlake Style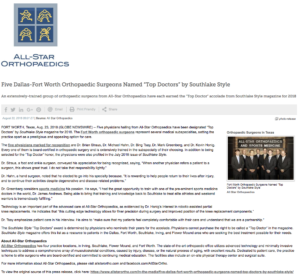 An extensively-trained group of orthopaedic surgeons from All-Star Orthopaedics have each earned the "Top Doctor" accolade from Southlake Style magazine for 2018.
Fort Worth, TX — Five physicians hailing from All-Star Orthopaedics have been designated "Top Doctors" by Southlake Style magazine for 2018. The Fort Worth orthopaedic surgeons represent several medical subspecialties, setting the practice apart as a prestigious and appealing option for care.
The five physicians marked for recognition are Dr. Brian Straus, Dr. Michael Hahn, Dr. Bing Tsay, Dr. Mark Greenberg, and Dr. Kevin Honig. Every one of them is board-certified in orthopaedic surgery and is extensively trained in the subspecialty of their choosing. In addition to being selected for the "Top Doctor" honor, the physicians were also profiled in the July 2018 issue of Southlake Style.
Dr. Straus, a foot and ankle surgeon, conveyed his appreciation for being recognized, saying, "When another physician refers a patient to a surgeon, this shows great trust. I do not take that responsibility lightly."
Dr. Hahn, a hand surgeon, noted that he elected to go into his specialty because, "It is rewarding to help people return to their lives after injury, and to continue their activities despite degenerative and disease-related problems."
Dr. Greenberg considers sports medicine his passion. He says, "I had the great opportunity to train with one of the pre-eminent sports medicine doctors in the world, Dr. James Andrews. Being able to bring that training and knowledge back to Southlake to treat elite athletes and weekend warriors is tremendously fulfilling."
Technology is an important part of the advanced care at All-Star Orthopaedics, as evidenced by Dr. Honig's interest in robotic-assisted partial knee replacements. He indicates that "this cutting edge technology allows for finer precision during surgery and improved position of the knee replacement components."
Dr. Tsay emphasizes patient care in his interview. He aims to "make sure that my patients feel completely comfortable with their care and understand that we are a partnership."
The Southlake Style "Top Doctors" award is determined by physicians who nominate their peers for the accolade. Physicians cannot purchase the right to be called a "Top Doctor" in the magazine. Southlake Style magazine offers this list as a resource to patients in the Dallas, Fort Worth, Southlake, Irving, and Flower Mound area who are seeking the best treatment possible for their needs.
About All-Star Orthopaedics
All-Star Orthopaedics has four practice locations, in Irving, Southlake, Flower Mound, and Fort Worth. The state-of-the-art orthopaedic office utilizes advanced technology and minimally invasive techniques to address a comprehensive array of musculoskeletal conditions, caused by injury, disease, or the natural process of aging, with excellent results. Dedicated to patient care, the practice is home to elite surgeons who are board-certified and committed to continuing medical education. The facilities also include an on-site physical therapy center and surgical suite.
For more information about All-Star Orthopaedics, please visit allstarortho.com and facebook.com/AllStarOrtho.
Contact:
All-Star Orthopaedics
Fort Worth Location:
9557 North Beach St., Ste 121
Fort Worth, TX 76244
(817) 617-8780
Irving Location:
400 W. LBJ Fwy., Ste. 330
Irving, TX 75063
(972) 556-2885
Southlake Location:
910 E. Southlake Blvd., Ste. 155
Southlake, TX 76092
(817) 421-5000
Flower Mound Location:
3400 Long Prairie Rd., Ste. 102
Flower Mound, TX 75022
(972) 556-2885
Rosemont Media
(858) 200-0044
www.rosemontmedia.com