When Is an Orthopaedic Condition an Emergency?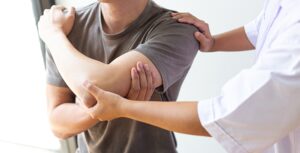 As individuals, our thresholds for pain and psychological feelings about seeking treatment can vary greatly. These fluctuations may create uncertainty when deciding if an injury needs help beyond a normal appointment with your doctor. For orthopaedic injuries involving the hips, knees, spine, shoulders, elbows, and other areas, many cases may require diagnostic attention after an accident or trauma or if an existing condition suddenly becomes significantly worse. Below, our Dallas-Fort Worth area orthopaedic surgeons explain when an orthopaedic condition should be considered an emergency.
Note: if someone has a life-threatening emergency or appears to be unconscious, call 911 immediately or go to the nearest emergency room.
In general, if any musculoskeletal areas (bones, muscles, joints, ligaments, tendons, and nerves) are suffering from debilitating pain, infection, or obstruction of blood flow, it's advised to seek urgent treatment. Some of the most common injuries or conditions that typically require orthopaedic urgent care can be described as the following:
Broken or fractured bones
Sprained or torn ligaments
Ruptured tendons
Dislocated, unaligned, or immobile limbs
Substantial neck or back pain
Sudden swelling or pain in joints
To receive focused care for these critical circumstances, visiting an orthopaedic practice with designated urgent care rather than a general urgent care facility can be very beneficial (when possible). For example, you may have the advantage of shorter wait times or be able to make an appointment, utilize insurance coverage, and avoid exposure to viral or bacterial illnesses that often circulate healthcare facilities. At All-Star Orthopaedics, we offer same-day appointments with our board-certified orthopaedic surgeons who specialize in orthopaedic emergencies, along with the convenience of onsite x-rays, imaging, and many solutions for orthopaedic boots, slings, and braces.
If you have concerns about any of the serious conditions listed above or another orthopaedic issue, please contact our skilled medical team to schedule an urgent appointment at one of our four offices around the Dallas-Fort Worth area so we may properly assess your injury.