Dallas Orthopaedic Surgeons Named 2019 "Top Docs" in Southlake Style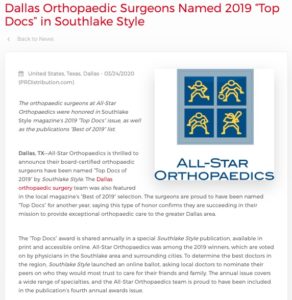 The orthopaedic surgeons at All-Star Orthopaedics were honored in Southlake Style magazine's 2019 "Top Docs" issue, as well as the publications "Best of 2019" list.
Dallas, TX—All-Star Orthopaedics is thrilled to announce their board-certified orthopaedic surgeons have been named "Top Docs of 2019" by Southlake Style. The Dallas orthopaedic surgery team was also featured in the local magazine's "Best of 2019" selection. The surgeons are proud to have been named "Top Docs" for another year, saying this type of honor confirms they are succeeding in their mission to provide exceptional orthopaedic care to the greater Dallas area.
The "Top Docs" award is shared annually in a special Southlake Style publication, available in print and accessible online. All-Star Orthopaedics was among the 2019 winners, which are voted on by physicians in the Southlake area and surrounding cities. To determine the best doctors in the region, Southlake Style launched an online ballot, asking local doctors to nominate their peers on who they would most trust to care for their friends and family. The annual issue covers a wide range of specialties, and the All-Star Orthopaedics team is proud to have been included in the publication's fourth annual awards issue.
In addition to their "Top Docs" status, the Dallas surgeons were named in Southlake Style's "Best Of" list for 2019. This collection is intended to highlight top businesses in the area every year. In the magazine's December 2019 issue, the All-Star Orthopaedics doctors were featured as part of this list with five reviews from their patients. These testimonials described the practice as being organized, compassionate, and friendly, as well as offering effective treatment and exhibiting overall excellence in orthopaedics.
The orthopaedic surgeons are pleased to have been included alongside other prominent physicians in the area. They believe awards like "Top Docs" and "Best Of" offer the community a valuable resource for finding reputable and experienced physicians near them.
About All-Star Orthopaedics
All-Star Orthopaedics offers comprehensive orthopaedic, sports medicine, and spine care. The practice is run by a highly experienced group of board-certified orthopaedic surgeons who see patients at five locations around the greater Dallas-Fort Worth area, including Irving, Southlake, Flower Mound, Alliance, and Argyle. The team is extensively trained in a variety of specialties, including general orthopaedics, foot and ankle care, hand and wrist surgery, joint replacement, spinal conditions, and sports medicine. All-Star Orthopaedics also has its own physical rehabilitation center on-site.
For more information about All-Star Orthopaedics, please visit allstarortho.com and facebook.com/AllStarOrtho.
Contact:
All-Star Orthopaedics
Irving Location:
400 W. LBJ Fwy., Ste. 330
Irving, TX 75063
(972) 556-2885
Southlake Location:
910 E. Southlake Blvd., Ste. 155
Southlake, TX 76092
(817) 421-5000
Flower Mound Location:
4951 Long Prairie Road, Ste. 100
Flower Mound, TX 75028
(972) 556-2885
Alliance Location:
3124 N Tarrant Pkwy, Ste. 200
Fort Worth, TX 76177
(817) 617-8780
Argyle Location:
7214 Crawford Road
Argyle, TX 76226
Rosemont Media
(858) 200-0044
www.rosemontmedia.com