What Causes Osteoarthritis of the Hip?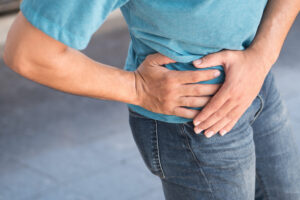 Osteoarthritis is the most common type of arthritis. Often referred to as "wear-and-tear arthritis," osteoarthritis typically affects joints that bear more weight, such as the hips, but it can occur in any joint. Although there isn't a specific cause of osteoarthritis, certain factors can make you more prone to developing the disease. Common risk factors include:
Being of an older age
Having a family history
Previous injuring the joint
Being obese
Having development problems of the joint
Men and women 50 years and older are the most common age demographic affected by osteoarthritis, though it can occur in younger individuals, as well. When the condition affects the hip, this gradually causes the cartilage in the joint to wear away and become rough in the process. As a result, the bone can start rubbing against bone, which can become very painful over time.
Since osteoarthritis is a degenerative disease, symptoms often progress until more advanced treatment options become necessary. Hip replacement surgery may be recommended to restore a comfortable, healthy range of motion. Our orthopaedic surgeons are experienced in different surgical techniques, including minimally invasive options and total hip replacement.
If you suffer from osteoarthritis in your hips and want to learn which treatment options can provide long-term relief, please contact our team at All-Star Orthopaedics to schedule an appointment with one of our specialists.