Dallas Orthopedic Surgeon Performs Patient-Specific Joint Replacement For Individualized Care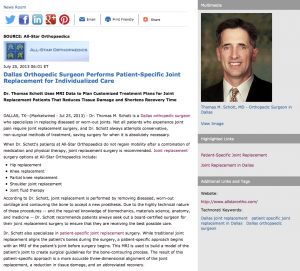 Dr. Thomas Schott uses MRI data to plan customized treatment plans for joint replacement patients that reduces tissue damage and shortens recovery time.
Dallas, TX – Dr. Thomas M. Schott is a Dallas orthopedic surgeon who specializes in replacing diseased or worn-out joints. Not all patients who experience joint pain require joint replacement surgery, and Dr. Schott always attempts conservative, non-surgical methods of treatment, saving surgery for when it is absolutely necessary.
When Dr. Schott's patients at All-Star Orthopaedics do not regain mobility after a combination of medication and physical therapy, joint replacement surgery is recommended. Joint replacement surgery options at All-Star Orthopaedics include:
Hip replacement
Knee replacement
Partial knee replacement
Shoulder joint replacement
Joint fluid therapy
According to Dr. Schott, joint replacement is performed by removing diseased, worn-out cartilage and contouring the bone to accept a new prosthesis. Due to the highly technical nature of these procedures – and the required knowledge of biomechanics, materials science, anatomy, and medicine – Dr. Schott recommends patients always seek out a board-certified surgeon for their joint replacement surgery to ensure that they are receiving the best possible care.
Dr. Schott also specializes in patient-specific joint replacement surgery. While traditional joint replacement aligns the patient's bones during the surgery, a patient-specific approach begins with an MRI of the patient's joint before surgery begins. This MRI is used to build a model of the patient's joint to create surgical guidelines for the bone-contouring process. The result of this patient-specific approach is a more accurate three-dimensional alignment of the joint replacement, a reduction in tissue damage, and an abbreviated recovery.
The Dallas orthopedic surgery patients of Dr. Schott typically spend only a few days in the hospital for joint replacement surgery. In the following weeks, patients will spend time with a physical therapist to ensure the joint is healing properly and that range of motion continues to increase. Dr. Schott says most joint replacement patients return to their normal activities pain-free within four to six weeks after surgery.
About Thomas M. Schott, MD
Dr. Thomas Schott is a founding member of All-Star Orthopaedics and earned his medical degree at Johns Hopkins University School of Medicine. In addition to being certified by the American Board of Orthopaedic Surgery, Dr. Schott has served as a Clinical Instructor of Orthopaedic Surgery. He is available for interview upon request.
About All-Star Orthopaedics
All-Star Orthopaedics specializes in a range of orthopaedic treatments including spinal surgery, hand surgery, foot surgery, sports medicine, joint replacement, minimally invasive procedures and arthroscopy. The practice has been serving the Dallas-Fort Worth area since 1997 and has its own on-site physical rehabilitation center. The specialists at All-Star Orthopaedics are available for interview upon request.
For more information about All-Star Orthopaedics, please visit allstarortho.com or facebook.com/allstarortho.