Southlake Style Magazine Features All-Star Orthopaedics Team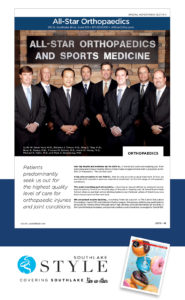 We are excited to announce that our entire team of orthopaedic surgeons was recently featured in Southlake Style magazine. You can find the full-page spread in the January 2019 issue, both in print and online. As part of the article, our team had the opportunity to respond to commonly asked questions about our field, including misconceptions about orthopaedic treatment, what is most rewarding about the job, and the top health and wellness tips for 2019.
Our surgeons also had a chance to discuss our philanthropic efforts, including our commitment to supporting The Carroll Education Foundation, Carroll ISD, and National Charity League. All-Star Orthopaedics considers youth athletics an important part of every child's growth and development, and helping more adolescents gain access to safe healthcare during competition is of primary concern to our entire medical team.
To read the feature, please pick up a copy of Southlake Style or click over to their website. For more information about our orthopaedic surgeons and how we can provide comprehensive joint care and sports medicine treatment, please contact our office.