Janet McMillen, PT, MS, OCS – Physical Therapist Facility Supervisor – Irving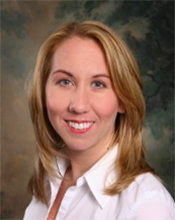 Janet earned a Master of Science degree in Physical Therapy in 2001 from Texas Woman's University in Houston, Texas, and has been practicing in the DFW area for the past 9 ½ years. Additionally, Janet earned a Bachelor of Science in Psychology from Baylor University in 1997. Janet's career focus is in the field of general orthopedics where she incorporates evidence-based manual and exercise techniques to improve the mobility and strength of the patient, while managing pain and maximizing functional activity. Janet has completed over 500 hours of continuing education courses centered on orthopedic PT, and she recently passed the American Board of Physical Therapy Specialties OCS exam in June 2011 and is now a Board Certified Clinical Specialist in Orthopedic Physical Therapy.
Janet is the Clinic Supervisor and Lead Therapist for All-Star Orthopaedics in Irving.