When Is Joint Replacement Needed? Dallas Orthopaedic Surgeons Discuss Signs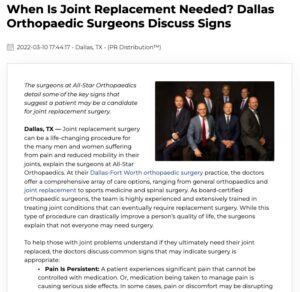 The surgeons at All-Star Orthopaedics detail some of the key signs that suggest a patient may be a candidate for joint replacement surgery.
Dallas, TX — Joint replacement surgery can be a life-changing procedure for the many men and women suffering from pain and reduced mobility in their joints, explain the surgeons at All-Star Orthopaedics. At their Dallas-Fort Worth orthopaedic surgery practice, the doctors offer a comprehensive array of care options, ranging from general orthopaedics and joint replacement to sports medicine and spinal surgery. As board-certified orthopaedic surgeons, the team is highly experienced and extensively trained in treating joint conditions that can eventually require replacement surgery. While this type of procedure can drastically improve a person's quality of life, the surgeons explain that not everyone may need surgery.
To help those with joint problems understand if they ultimately need their joint replaced, the doctors discuss common signs that may indicate surgery is appropriate:
Pain Is Persistent: A patient experiences significant pain that cannot be controlled with medication. Or, medication being taken to manage pain is causing serious side effects. In some cases, pain or discomfort may be disrupting the patient's ability to sleep at night.
Mobility Is Limited: The joint no longer has a healthy range of motion, which can make it difficult to carry out daily activities without assistance, such as walking or bending over which may demonstrate a need for hip replacement.
Tests Show Damage: After consulting with a qualified professional, the patient undergoes X-rays and other diagnostic tests that reveal severe arthritis or other damage has been caused to the joint that cannot be reversed.
Non-surgical Treatments Are Ineffective: After attempting minimally invasive techniques, such as physical therapy, braces, anti-inflammatory medications, and injection therapy, the symptoms have not sufficiently improved.
The orthopaedic surgeons clarify that while joint replacement surgery can be highly beneficial for those with significant pain, impaired function, and severe joint damage, they only recommend the solution when a patient has first tried less invasive treatments that have not proven to help. They explain that while the signs above can help an individual recognize the likelihood of needing surgery, the best way to understand their options is to consult with a board-certified orthopaedic surgeon.
Should someone show the need for surgery — whether shoulder, wrist, hip, ankle, or knee replacement — the Dallas-Fort Worth team emphasizes that with the latest technologies and surgical techniques available today, patients can look forward to not only restoring their physical health, but enhancing their overall outlook on life.
About All-Star Orthopaedics
All-Star Orthopaedics is a premier orthopaedic practice located in the greater Dallas-Fort Worth area. The team is composed of eight experienced orthopaedic surgeons: Drs. Mark S. Greenberg, Michael K. Hahn, Kevin M. Honig, W. Grear Hurt, Thomas M. Schott, Brian E. Straus, Stephen J. Timon, and Bing S. Tsay. Specializing in treating a wide range of musculoskeletal disorders, the doctors are extensively trained in general orthopaedics, sports medicine, joint replacement, surgery of the upper extremities, foot and ankle conditions, spine and neck surgery, and more. Patients can choose from the practice's five locations across the region, all of which also offer same-day appointments for urgent orthopaedic care. The doctors are available for interview upon request.
For more information about All-Star Orthopaedics, please visit allstarortho.com and facebook.com/AllStarOrtho.
Contact:
All-Star Orthopaedics
Irving Location:
400 W. LBJ Fwy., Ste. 330
Irving, TX 75063
(972) 556-2885
Southlake Location:
910 E. Southlake Blvd., Ste. 155
Southlake, TX 76092
(817) 421-5000
Flower Mound Location:
4951 Long Prairie Road, Ste. 100
Flower Mound, TX 75028
(972) 556-2885
Alliance Location:
3124 N Tarrant Pkwy, Ste. 200
Fort Worth, TX 76177
(817) 617-8780
Argyle Location:
7214 Crawford Road
Argyle, TX 76226
Rosemont Media
(800) 491-8623
www.rosemontmedia.com