Dr. Brian Straus Certified in Latest Ankle Replacement Techniques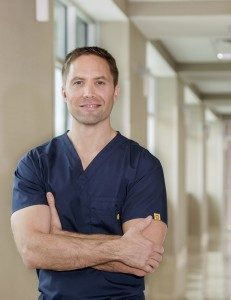 As part of our commitment to patient care, our skilled orthopaedic surgeons complete continuing education courses and stay apprised of the latest techniques to provide optimal results with less recovery. Dr. Brian Straus, our primary foot and ankle surgeon, recently completed training and is now certified in the use of two state-of-the-art Wright® implants and the PROPHECY® navigation guide. The Wright® INBONE® and INFINITY® Total Ankle System are innovative implants designed to give patients improved stability and mobility, helping individuals who experience significant ankle pain and dysfunction.
Dr. Brian Straus is extensively trained in the latest ankle replacement surgery technology. Total ankle replacement is most commonly performed to address advanced arthritis in the ankle joint that causes discomfort and reduces function. In the event non-surgical treatments prove ineffective, this approach can be an excellent alternative to ankle fusion, a method that leads to restricted joint motion.
To learn more about ankle replacement surgery using Wright® INBONE and INFINITY® Total Ankle implants, or to schedule a consultation with Dr. Straus, please contact our practice today.