Dallas Orthopaedic Surgeons on How to Identify Carpal Tunnel Syndrome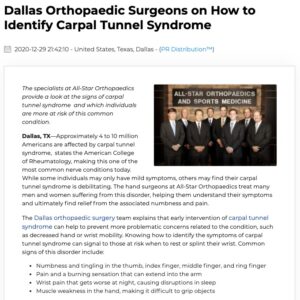 The specialists at All-Star Orthopaedics provide a look at the signs of carpal tunnel syndrome and which individuals are more at risk of this common condition.
Dallas, TX—Approximately 4 to 10 million Americans are affected by carpal tunnel syndrome, states the American College of Rheumatology, making this one of the most common nerve conditions today. While some individuals may only have mild symptoms, others may find their carpal tunnel syndrome is debilitating. The hand surgeons at All-Star Orthopaedics treat many men and women suffering from this disorder, helping them understand their symptoms and ultimately find relief from the associated numbness and pain.
The Dallas orthopaedic surgery team explains that early intervention of carpal tunnel syndrome can help to prevent more problematic concerns related to the condition, such as decreased hand or wrist mobility. Knowing how to identify the symptoms of carpal tunnel syndrome can signal to those at risk when to rest or splint their wrist. Common signs of this disorder include:
Numbness and tingling in the thumb, index finger, middle finger, and ring finger
Pain and a burning sensation that can extend into the arm
Wrist pain that gets worse at night, causing disruptions in sleep
Muscle weakness in the hand, making it difficult to grip objects
Many patients of the orthopaedic surgeons find that their hand "falls asleep" throughout the day, even causing them to drop objects they are holding. The doctors explain that this is a result of the median nerve that runs through the wrist being compressed within the carpal tunnel. They say this is common for those with jobs that involve repetitive wrist movements or strong gripping. Additional risk factors include being a woman, having a family history, being pregnant, suffering from arthritis, and being of an older age.
For those who think they may have developed carpal tunnel syndrome, the orthopaedic surgeons explain that sometimes rest, splinting, and anti-inflammatory medication can be effective treatments for mild cases. They go on to say that those with more moderate symptoms may need steroid injections, and severe cases may require surgical intervention.
Although carpal tunnel syndrome is incredibly common, the orthopaedic surgeons inform men and women they do not need to live with the pain and muscle weakness. If resting the wrist and hand does not resolve their symptoms, the surgeons encourage people to schedule an appointment with a qualified professional to determine the best method of finding relief from their carpal tunnel syndrome.
About All-Star Orthopaedics
All-Star Orthopaedics is led by a team of eight board-certified orthopaedic surgeons who focus on a wide range of specialties, including general orthopaedics; hand, elbow, and wrist surgery; foot and ankle surgery; spinal, back, and neck surgery; joint replacement; and sports medicine. The team offers comprehensive care at five locations in the greater Dallas-Fort Worth region, and is dedicated to helping patients maintain optimal physical health long-term. The doctors are available for interview upon request.
For more information about All-Star Orthopaedics, please visit allstarortho.com and facebook.com/AllStarOrtho.
Contact:
All-Star Orthopaedics
Irving Location:
400 W. LBJ Fwy., Ste. 330
Irving, TX 75063
(972) 556-2885
Southlake Location:
910 E. Southlake Blvd., Ste. 155
Southlake, TX 76092
(817) 421-5000
Flower Mound Location:
4951 Long Prairie Road, Ste. 100
Flower Mound, TX 75028
(972) 556-2885
Alliance Location:
3124 N Tarrant Pkwy, Ste. 200
Fort Worth, TX 76177
(817) 617-8780
Argyle Location:
7214 Crawford Road
Argyle, TX 76226
Rosemont Media
(858) 200-0044
www.rosemontmedia.com