Dallas Orthopaedic Practice Improves Website with Mobile-Friendly Design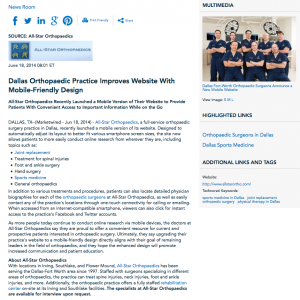 All-Star Orthopaedics recently launched a mobile version of their website to provide patients with convenient access to important information while on the go.
Dallas, TX — All-Star Orthopaedics, a full-service orthopaedic surgery practice in Dallas, recently launched a mobile version of its website. Designed to automatically adjust its layout to better fit various smartphone screen sizes, the site now allows patients to more easily conduct online research from wherever they are, including topics such as:
Treatment for spinal injuries
Foot and ankle surgery
Hand surgery
General orthopaedics
In addition to various treatments and procedures, patients can also locate detailed physician biographies for each of the orthopaedic surgeons at All-Star Orthopaedics, as well as easily contact any of the practice's locations through one-touch connectivity for calling or emailing. When accessed from an Internet-compatible smartphone, viewers can also click for instant access to the practice's Facebook and Twitter accounts.
As more people today continue to conduct online research via mobile devices, the doctors at All-Star Orthopaedics say they are proud to offer a convenient resource for current and prospective patients interested in orthopaedic surgery. Ultimately, they say upgrading their practice's website to a mobile-friendly design directly aligns with their goal of remaining leaders in the field of orthopaedics, and they hope the enhanced design will promote increased communication and patient education.
About All-Star Orthopaedics
With locations in Irving, Southlake, and Flower Mound, All-Star Orthopaedics has been serving the Dallas-Fort Worth area since 1997. Staffed with surgeons specializing in different areas of orthopaedics, the practice can treat spine injuries, neck injuries, foot and ankle injuries, and more. Additionally, the orthopaedic practice offers a fully staffed rehabilitation center on-site at its Irving and Southlake facilities. The specialists at All-Star Orthopaedics are available for interview upon request.
For more information about All-Star Orthopaedics, please visit allstarortho.com or facebook.com/allstarortho.
Contact:
All-Star Orthopaedics
Irving Office:
400 W LBJ Fwy, Suite 330
Irving, TX 75063
(972) 556-2885
Southlake Office:
910 E. Southlake Blvd. Suite 155
Southlake, TX 76092
(817) 421-5000
Flower Mound Office:
3400 Long Prairie Road, Suite 102
Flower Mound, TX 75022
(972) 556-2885
Rosemont Media
tom@rosemontmedia.com
(858) 200-0044
www.rosemontmedia.com