What Southlake Stars and Stripes Means to Us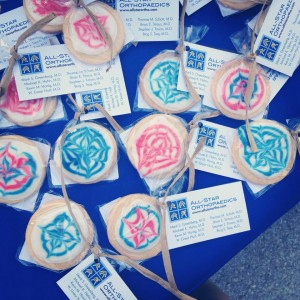 Last month, All-Star Orthopaedics participated in the Southlake Stars and Stripes event once again. This is an exciting gathering that we truly enjoy being a part of annually! It is always a fun way for us to get to know members of our community, and reach out to individuals who might benefit from meeting with one of our talented orthopaedic surgeons. We love being a part of Southlake Stars and Stripes because it gives us an opportunity to help make a difference by keeping our community healthy and strong. We hope you got a chance to meet us, if you were there!
This year, we passed out free cookies that were beautifully decorated with red, white, and blue frosting to those who visited our booth. Our visitors also had an opportunity to enter our giveaway – one lucky winner walked away with two Rangers tickets and a delicious apple pie! The pie and cookies were all made by Chef Stephanie, a local chef serving the Dallas/Fort Worth area. We loved getting to meet everyone, and enjoyed being able to support a local business, as well!
We are always on the lookout for more ways to connect with our community – if you know of any other opportunities that you would like to see us participate in, please contact our office today.