Dallas Orthopaedic Surgeon Details Non-Surgical Treatment for Plantar Fasciitis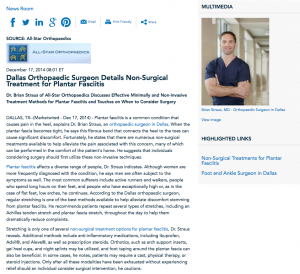 Dr. Brian Straus of All-Star Orthopaedics discusses effective minimally and non-invasive treatment methods for plantar fasciitis and touches on when to consider surgery.
Dallas, TX—Plantar fasciitis is a common condition that causes pain in the heel, explains Dr. Brian Straus, an orthopaedic surgeon in Dallas. When the plantar fascia becomes tight, he says this fibrous band that connects the heel to the toes can cause significant discomfort. Fortunately, he states that there are numerous non-surgical treatments available to help alleviate the pain associated with this concern, many of which can be performed in the comfort of the patient's home. He suggests that individuals considering surgery should first utilize these non-invasive techniques.
Plantar fasciitis affects a diverse range of people, Dr. Straus indicates. Although women are more frequently diagnosed with the condition, he says men are often subject to the symptoms as well. The most common sufferers include active runners and walkers, people who spend long hours on their feet, and people who have exceptionally high or, as in the case of flat feet, low arches, he continues. According to the Dallas orthopaedic surgeon, regular stretching is one of the best methods available to help alleviate discomfort stemming from plantar fasciitis. He recommends patients repeat several types of stretches, including an Achilles tendon stretch and plantar fascia stretch, throughout the day to help them dramatically reduce complaints.
Stretching is only one of several non-surgical treatment options for plantar fasciitis, Dr. Straus reveals. Additional methods include anti-inflammatory medications, including ibuprofen, Advil®, and Aleve®, as well as prescription steroids. Orthotics, such as arch support inserts, gel heel cups, and night splints may be utilized, and foot taping around the plantar fascia can also be beneficial. In some cases, he notes, patients may require a cast, physical therapy, or steroid injections. Only after all these modalities have been exhausted without experiencing relief should an individual consider surgical intervention, he cautions.
Ultimately, Dr. Straus encourages patients suffering from plantar fasciitis to explore all the non-surgical methods available to help ease discomfort. He also recommends researching an experienced, board-certified orthopaedic surgeon who emphasizes conservative therapies first when seeking a diagnosis and treatment for this condition.
About Brian Straus, MD
Dr. Straus, a board-certified orthopaedic surgeon, earned his undergraduate degree from Texas A&M University and his medical degree from the University of Texas Southwestern Medical School. After graduation, he completed a residency and internship in Orthopaedic Surgery at the Medical University of South Carolina, followed by specialized training in lower extremity surgery at the Foundation for Orthopaedic, Athletic, and Reconstructive Research under director Dr. Thomas O. Clanton. Dr. Straus is committed to continued education programs and is an active member of several prestigious medical organizations. He is available for interview upon request.
For more information about Dr. Straus and his practice, please visit allstarortho.com and facebook.com/allstarortho.
Contact:
All-Star Orthopaedics
Irving Location:
400 W. LBJ Fwy., Ste. 330
Irving, TX 75063
(972) 556-2885
Southlake Location:
910 E. Southlake Blvd., Ste. 155
Southlake, TX 76092
(817) 421-5000
Flower Mound Location:
3400 Long Prairie Rd., Ste. 102
Flower Mound, TX 75022
(972) 556-2885
Rosemont Media
(858) 200-0044
www.rosemontmedia.com