Dallas Orthopaedic Surgery Practice Collaborates With Local Rugby Club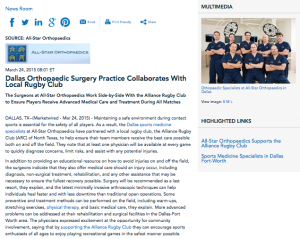 The surgeons at All-Star Orthopaedics work side-by-side with the Alliance Rugby Club to ensure players receive advanced medical care and treatment during all matches.
Dallas, TX—Maintaining a safe environment during contact sports is essential for the safety of all players. As a result, the Dallas sports medicine specialists at All-Star Orthopaedics have partnered with a local rugby club, the Alliance Rugby Club (ARC) of North Texas, to help ensure their team members receive the best care possible both on and off the field. They note that at least one physician will be available at every game to quickly diagnose concerns, limit risks, and assist with any potential injuries.
In addition to providing an educational resource on how to avoid injuries on and off the field, the surgeons indicate that they also offer medical care should an injury occur, including diagnosis, non-surgical treatment, rehabilitation, and any other assistance that may be necessary to ensure the fullest recovery possible. Surgery will be recommended as a last resort, they explain, and the latest minimally invasive arthroscopic techniques can help individuals heal faster and with less downtime than traditional open operations. Some preventive and treatment methods can be performed on the field, including warm-ups, stretching exercises, physical therapy, and basic medical care, they explain. More advanced problems can be addressed at their rehabilitation and surgical facilities in the Dallas-Fort Worth area. The physicians expressed excitement at the opportunity for community involvement, saying that by supporting the Alliance Rugby Club they can encourage sports enthusiasts of all ages to enjoy playing recreational games in the safest manner possible.
Ultimately, the Dallas sports medicine specialists believe that by attending the games and providing medical care and information, they can help players and coaches develop safe habits when practicing and playing rugby, as well as other athletic activities. Furthermore, they suggest that by becoming accustomed to healthy athletic routines, the team members can pass on these prudent behaviors to new players as well as friends and family.
About All-Star Orthopaedics
All-Star Orthopaedics is an orthopaedics, sports medicine, and spine health practice providing surgical and non-surgical treatment for musculoskeletal and neurological conditions in patients of all ages. Founded in 1997, the practice is comprised of leading orthopaedic surgeons, physical therapists, and physician's assistants with extensive training in sports and work-related injuries. Their on-site facilities include a rehabilitation center, state-of-the-art technology, and a skilled team of specialists that prioritize the patient experience.
For more information about All-Star Orthopaedics, please visit allstarortho.com and facebook.com/allstarortho.
Contact:
All-Star Orthopaedics
Irving Office:
400 W LBJ Fwy., Ste. 330
Irving, TX 75063
(972) 556-2885
Southlake Office:
910 E. Southlake Blvd., Ste. 155
Southlake, TX 76092
(817) 421-5000
Flower Mound Office:
3400 Long Prairie Rd., Ste. 102
Flower Mound, TX 75022
(972) 556-2885
Rosemont Media
(858) 200-0044
www.rosemontmedia.com