Joint Replacement Q & A with Dallas Orthopaedic Surgeon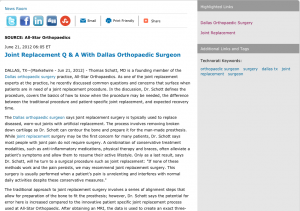 Dallas, TX — Thomas Schott, MD is a founding member of the Dallas orthopaedic surgery practice, All Star Orthopaedics. As one of the joint replacement experts at the practice, he recently discussed common questions and concerns that surface when patients are in need of a joint replacement procedure. In the discussion, Dr. Schott defines the procedure, covers the basics of how to know when the procedure may be needed, the difference between the traditional procedure and patient-specific joint replacement, and expected recovery time.
The Dallas orthopaedic surgeon says joint replacement surgery is typically used to replace diseased, worn-out joints with artificial replacement. The process involves removing broken down cartilage so Dr. Schott can contour the bone and prepare it for the man-made prosthesis. While joint replacement surgery may be the first concern for many patients, Dr. Schott says most people with joint pain do not require surgery. A combination of conservative treatment modalities, such as anti-inflammatory medications, physical therapy and braces, often alleviate a patient's symptoms and allow them to resume their active lifestyle. Only as a last result, says Dr. Schott, will he turn to a surgical procedure such as joint replacement: "If none of these methods work and the pain persists, we may recommend joint replacement surgery. This surgery is usually performed when a patient's pain is unrelenting and interferes with normal daily activities despite these conservative measures."
The traditional approach to joint replacement surgery involves a series of alignment steps that allow for preparation of the bone to fit the prosthesis; however, Dr. Schott says the potential for error here is increased compared to the innovative patient specific joint replacement process used at All Star Orthopaedic. After obtaining an MRI, the data is used to create an exact three-dimensional model of the patient's joint, which assists in proper contouring and allows for accurate, precise alignment. This approach helps lower risk and improves patient outcomes, says Dr. Schott, and often leads to less tissue damage, less pain, bleeding and swelling, as well as better range of motion. Additionally, this approach can reduce recovery time: "Using these patient-specific techniques, today's joint replacement surgery patients should be in the hospital only a few days. A physical therapist will need to visit the patient's home for the first few weeks, and the patient should be pain-free and back to normal activities within four to six weeks."
About Thomas Schott, MD
After completing his medical degree at Johns Hopkins School of Medicine, Dr. Thomas Schott completed subinternships in Orthopaedic Surgery at Johns Hopkins Hospital and The Campbell Clinic. He also completed an internship in general surgery at the University of Missouri, as well as a residency in Orthopedic Surgery at the University of Missouri. Dr. Schott is certified by the American Board of Orthopaedic Surgery, and is a member of the American Medical Association, the Dallas County Medical Society, and the Texas Orthopaedic Association.
All-Star Orthopaedics has three locations: 400 W. LBJ Fwy. Ste. 300, Irving, TX 75063, available at (972) 556-2885; 910 E. Southlake Blvd., Ste. 155, Southlake, TX 76092, available at (817) 421-5000; and 3400 Prairie Road, Ste. 102, Flower Mound, TX 75022, available at (972) 556-2885. Dr. Schott and the entire All-Star team can also be contacted at www.allstarortho.com or the Dallas Orthopaedic Surgery Facebook page.