All-Star Orthopaedics Tackle "Boomeritis"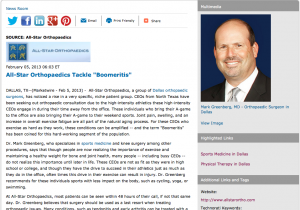 Dallas, TX – All-Star Orthopaedics, a group of Dallas orthopaedic surgeons, has noticed a rise in a very specific, niche patient group. CEOs from North Texas have been seeking out orthopaedic consultation due to the high-intensity athletics these high-intensity CEOs engage in during their time away from the office. These individuals who bring their A-game to the office are also bringing their A-game to their weekend sports. Joint pain, swelling, and an increase in overall exercise fatigue are all part of the natural aging process. For these CEOs who exercise as hard as they work, these conditions can be amplified – and the term "Boomeritis" has been coined for this hard-working segment of the population.
Dr. Mark Greenberg, who specializes in sports medicine and knee surgery among other procedures, says that though people are now realizing the importance of exercise and maintaining a healthy weight for bone and joint health, many people – including busy CEOs – do not realize this importance until later in life. These CEOs are not as fit as they were in high school or college, and though they have the drive to succeed in their athletics just as much as they do in the office, often times this drive in their exercise can result in injury. Dr. Greenberg recommends for these individuals sports with less impact on the body, such as cycling, yoga, or swimming.
At All-Star Orthopaedics, most patients can be seen within 48 hours of their call, if not that same day. Dr. Greenberg believes that surgery should be used as a last resort when treating orthopaedic issues. Many conditions, such as tendonitis and early arthritis can be treated with a combination physical therapy, braces, and modified activity. The next step of treatments utilize prescription medications and injectable and topical anti-inflammatories. Even when surgery is the best option, Dr. Greenberg offers minimally invasive joint replacement that incorporates smaller incisions, improved medical devices, partial knee replacements, and patient-specific knee replacements. Through the use of arthroscopic surgery, many of these issues can be treated as outpatient procedures, reducing downtime and allowing CEOs to return to their work – and their exercise – with the vigor they enjoy. All-Star Orthopaedics offer a range of orthopaedic surgery Dallas CEOs can employ as a way to get back to the field, the pool, the bike, or the court as quickly as possible.
About Mark Greenberg, MD
Dr. Mark Greenberg is a board-certified orthopaedic surgeon who was born and raised in Texas. He is a graduate of the University of Texas at Austin and earned his M.D. at the University of Texas Southwestern Medical School. He has been in private practice since 1991 and founded All-Star Orthopaedics in 1997. Dr. Greenberg is also a Clinical Instructor with the University of Texas Southwestern Medical School Department of Orthopaedic Surgery. His specialties include general orthopaedics, adult and adolescent sports medicine, joint replacement, and arthroscopic and reconstructive surgery of the knee and shoulder. He is a member of the Texas Medical Association, the Texas Orthopaedic Association, and the American Orthopaedic Society For Sports Medicine, among others.
To contact All-Star Orthopaedics, visit the center's website at www.allstarortho.com. Their offices are located in Irving, Southlake, and Flower Mound. The Irving office is located at 400 W LBJ Fwy, Suite 330, Irving TX 75063 and can be reached at 972-556-2885. The Southlake office is located at 910 E. Southlake Blvd. Suite 155, Southlake, TX 76092 and can be reached at 817-421-5000. The Flower Mound office is located at 3400 Long Prairie Road, Suite 102, Flower Mound, TX 75022 and can be reached at 972-556-2885.