Why Patients Choose Dr. Stephen Timon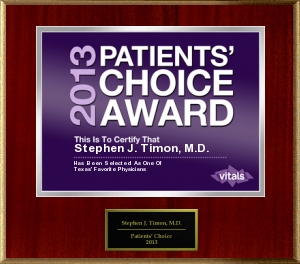 Our patients choose All-Star Orthopaedics because they know they will receive excellent care from some of the most compassionate physicians. Dr. Stephen Timon specializes in spine surgery, as well as treating spine, back, and neck injuries – and last year, his patients helped him to achieve a great honor: the 2013 Patients' Choice Award. This honor is based on over 200,000 reviews from patients, and was granted to Dr. Timon and only a select few other physicians. The doctors who achieved this award in 2013 make up only five percent of the 870,000 active physicians in the United States. This prestigious recognition was awarded by The American Registry, an organization that collects and authenticates patient reviews from a variety of sources. Using this data, The American Registry is able to create a more tangible reflection of the doctor's excellence, helping patients better understand and trust the care they are receiving.
Our entire team at All-Star Orthopaedics is proud that Dr. Timon has earned such a high honor; this distinction is especially meaningful, since it comes as a direct result of his patients' kind words.
To learn more about Dr. Timon, or to schedule a consultation with him, please contact us today.