Dallas Orthopaedic Surgeon Rewarded for Excellence in Patient Care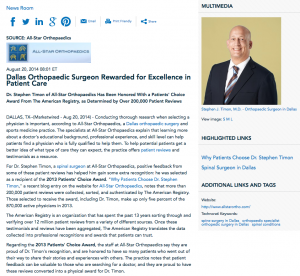 Dr. Stephen Timon of All-Star Orthopaedics has been honored with a Patients' Choice Award from The American Registry, as determined by over 200,000 patient reviews.
Dallas, TX — Conducting thorough research when selecting a physician is important, according to All-Star Orthopaedics, a Dallas orthopaedic surgery and sports medicine practice. The specialists at All-Star Orthopaedics explain that learning more about a doctor's educational background, professional experience, and skill level can help patients find a physician who is fully qualified to help them. To help potential patients get a better idea of what type of care they can expect, the practice offers patient reviews and testimonials as a resource.
For Dr. Stephen Timon, a spinal surgeon at All-Star Orthopaedics, positive feedback from some of these patient reviews has helped him gain some extra recognition: he was selected as a recipient of the 2013 Patients' Choice Award. "Why Patients Choose Dr. Stephen Timon," a recent blog entry on the website for All-Star Orthopaedics, notes that more than 200,000 patient reviews were collected, sorted, and authenticated by The American Registry. Those selected to receive the award, including Dr. Timon, make up only five percent of the 870,000 active physicians in 2013.
The American Registry is an organization that has spent the past 13 years sorting through and verifying over 12 million patient reviews from a variety of different sources. Once these testimonials and reviews have been aggregated, The American Registry translates the data collected into professional recognitions and awards that patients can trust.
Regarding the 2013 Patients' Choice Award, the staff at All-Star Orthopaedics say they are proud of Dr. Timon's recognition, and are honored to have so many patients who went out of their way to share their stories and experiences with others. The practice notes that patient feedback can be valuable to those who are searching for a doctor, and they are proud to have these reviews converted into a physical award for Dr. Timon.
About Stephen J. Timon, M.D.
Dr. Timon specializes in spinal surgery and treatment of back, neck, and spine conditions. He is a graduate of Tulane School of Medicine, where he graduated with top honors. Following medical school, Dr. Timon continued on to complete a residency in Orthopaedic Surgery at UCLA, as well as Spine Fellowship training at the Hospital for Special Surgery at Cornell University. He is fellowship-trained in minimally invasive spinal procedures, scoliosis surgery, and complex spinal reconstruction. Dr. Timon is available for interview upon request.
For more information about Dr. Timon or All-Star Orthopaedics, please visit allstarortho.com or facebook.com/allstarortho.
Contact:
All-Star Orthopaedics
Irving Location
400 W LBJ Fwy.
Suite 330
Irving, TX 75063
(972) 556-2885
Southlake Location
910 E. Southlake Blvd.
Suite 155
Southlake, TX 76092
(817) 421-5000
Flower Mound Location
3400 Long Prairie Road, Suite 102
Flower Mound, TX 75022
(972) 556-2885
Rosemont Media
tom@rosemontmedia.com
(858) 200-0044
www.rosemontmedia.com