Dallas Orthopaedic Surgeons Educate Patients On ACL Injury and Prevention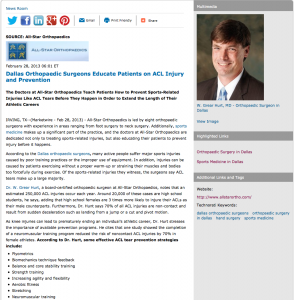 The doctors at All-Star Orthopaedics teach patients how to prevent sports-related injuries like ACL tears before they happen in order to extend the length of their athletic careers.
Irving, TX – All-Star Orthopaedics is led by eight orthopaedic surgeons with experience in areas ranging from foot surgery to neck surgery. Additionally, sports medicine makes up a significant part of the practice, and the doctors at All-Star Orthopaedics are dedicated not only to treating sports-related injuries, but also educating their patients to prevent injury before it happens.
According to the Dallas Orthopaedic surgeons, many active people suffer major sports injuries caused by poor training practices or the improper use of equipment. In addition, injuries can be caused by patients exercising without a proper warm-up or straining their muscles and bodies too forcefully during exercise. Of the sports-related injuries they witness, the surgeons say ACL tears make up a large majority.
Dr. W. Grear Hurt, a board-certified orthopaedic surgeon at All-Star Orthopaedics, notes that an estimated 250,000 ACL injuries occur each year. Around 20,000 of these cases are high school students, he says, adding that high school females are 3 times more likely to injure their ACLs as their male counterparts. Furthermore, Dr. Hunt says 70% of all ACL injuries are non-contact and result from sudden deceleration such as landing from a jump or a cut and pivot motion.
As knee injuries can lead to prematurely ending an individual's athletic career, Dr. Hurt stresses the importance of available prevention programs. He cites that one study showed the completion of a neuromuscular training program reduced the risk of noncontact ACL injuries by 70% in female athletes. According to Dr. Hurt, some effective ACL tear prevention strategies include:
Plyometrics
—Biomechanics technique feedback
—Balance and core stability training
—Strength training
—Increasing agility and flexibility
—Aerobic fitness
—Stretching
—Neuromuscular training
Dr. Hurt and his fellow specialists at All-Star Orthopaedics believe that preventing injuries to the ACL should be a part of every athlete's training routine. At their Dallas orthopaedic surgery practice, they strive to educate their patients on the most effective prevention strategies and consistently delegate assessment and conditioning tasks to athletic trainers and physical therapy colleagues in order to reduce ACL tear risks and prolong active lifestyles throughout the community.
About All-Star Orthopaedics
All-Star Orthopaedics was founded in 1997 and is comprised of a diverse team of doctors, physical therapists, physician's assistants, and support staff. Serving the Dallas-Fort Worth area, All-Star Orthopaedics specializes in a range of orthopaedic treatments ranging from spinal surgery and hand surgery, to foot surgery and sports medicine and joint replacement. In addition, the practice has its own on-site physical rehabilitation center. The specialists at All-Star Orthopaedics are available for interview upon request.