Orthopaedic Surgeon in Dallas Answers Common Questions About Stress Fractures of the Ankle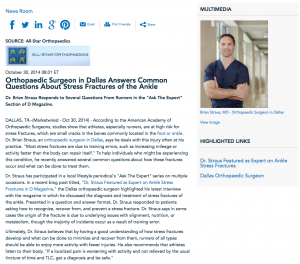 Dr. Brian Straus responds to several questions from runners in the "Ask The Expert" section of D Magazine.
Dallas, TX — According to the American Academy of Orthopaedic Surgeons, studies show that athletes, especially runners, are at high risk for stress fractures, which are small cracks in the bones commonly located in the foot or ankle. Dr. Brian Straus, an orthopaedic surgeon in Dallas, says he deals with this injury often at his practice. "Most stress fractures are due to training errors, such as increasing mileage or activity faster than the body can repair itself." To help individuals who might be experiencing this condition, he recently answered several common questions about how these fractures occur and what can be done to treat them.
Dr. Straus has participated in a local lifestyle periodical's "Ask The Expert" series on multiple occasions. In a recent blog post titled, "Dr. Straus Featured as Expert on Ankle Stress Fractures in D Magazine," the Dallas orthopaedic surgeon highlighted his latest interview with the magazine in which he discussed the diagnosis and treatment of stress fractures of the ankle. Presented in a question and answer format, Dr. Straus responded to patients asking how to recognize, recover from, and prevent a stress fracture. Dr. Straus says in some cases the origin of the fracture is due to underlying issues with alignment, nutrition, or metabolism, though the majority of incidents occur as a result of training error.
Ultimately, Dr. Straus believes that by having a good understanding of how stress fractures develop and what can be done to minimize and recover from them, runners of all types should be able to enjoy more activity with fewer injuries. He also recommends that athletes listen to their body. "If a localized pain is worsening with activity and not relieved by the usual tincture of time and TLC, get a diagnosis and be safe."
About Brian Straus, MD
Board-certified in orthopaedic surgery, Dr. Straus graduated Magna Cum Laude from Texas A&M University with a BS in Biomedical Science. He then attended University of Texas Southwestern Medical School where he received his medical degree, and he went on to complete a residency and internship in Orthopaedic Surgery at the Medical University of South Carolina. He furthered his training with a Foot & Ankle/Sports Fellowship at the Foundation for Orthopaedic, Athletic, and Reconstructive Research under Dr. Thomas O. Clanton in Houston, TX. Dr. Straus has helped care for professional athletes by working with both the Houston Rockets and the Dallas Mavericks. He is available for interview upon request.
For more information about Dr. Straus and his orthopaedic surgery practice, please visit allstarortho.com and facebook.com/allstarortho.
Contact:
All-Star Orthopaedics
Irving Location:
400 W. LBJ Fwy., Ste. 330
Irving, TX 75063
(972) 556-2885
Southlake Location
910 E. Southlake Blvd., Ste. 155
Southlake, TX 76092
(817) 421-5000
Flower Mound Location
3400 Long Prairie Rd., Ste. 102
Flower Mound, TX 75022
(972) 556-2885
Rosemont Media
(858) 200-0044
www.rosemontmedia.com