Southlake Orthopaedic Surgery Practice Supports Annual Community Event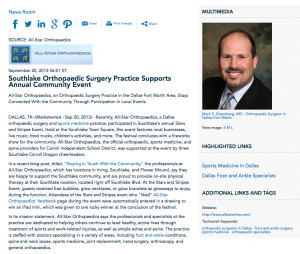 All-Star Orthopaedics, an orthopaedic surgery practice in the Dallas-Fort Worth area, stays connected with the community through participation in local events.
Dallas, TX — Recently, All-Star Orthopaedics, a Dallas orthopaedic surgery and sports medicine practice, participated in Southlake's annual Stars and Stripes Event. Held at the Southlake Town Square, this event features local businesses, live music, food trucks, children's activities, and more. The festival concludes with a fireworks show for the community. All-Star Orthopaedics, the official orthopaedic, sports medicine, and spine providers for Carroll Independent School District, was supported at the event by three Southlake Carroll Dragon cheerleaders.
In a recent blog post, titled, "Staying in Touch With the Community," the professionals at All-Star Orthopaedics, which has locations in Irving, Southlake, and Flower Mound, say they are happy to support the Southlake community, and are proud to provide on-site physical therapy at their Southlake location, located right off Southlake Blvd. At the Stars and Stripes Event, guests received free bubbles, glow necklaces, or glow bracelets as giveaways to enjoy during the function. Attendees of the Stars and Stripes event who "liked" All-Star Orthopaedics' facebook page during the event were automatically entered in a drawing to win an iPad mini, which was given to one lucky winner at the conclusion of the festival.
In its mission statement, All-Star Orthopaedics says the professionals and specialists at the practice are dedicated to helping others continue to lead healthy, active lives through treatment of sports and work-related injuries, as well as simple aches and pains. The practice is staffed with doctors specializing in a variety of areas, including foot and ankle conditions, spine and neck issues, sports medicine, joint replacement, hand surgery, arthroscopy, and general orthopaedics.
About All-Star Orthopaedics
All-Star Orthopaedics has its own on-site physical rehabilitation center, and has been serving the Dallas-Fort Worth area since 1997. The practice includes a number of specialist orthopaedic surgeons and physical therapists who offer a range of non-surgical and minimally invasive surgical treatments. The doctors at All-Star Orthopaedics have staff privileges at many of the major medical centers and hospitals located in the Dallas-Fort Worth area. The specialists at All-Star Orthopaedics are available for interview upon request.
For more information about All-Star Orthopaedics, please visit allstarortho.com or facebook.com/allstarortho.